Close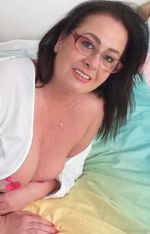 Hi! I'm Barbara, 42 years old!
Győr
Biography
Age
42 years old
Category
I'm a masseuse (female)
Physique
Chubby
Hair type
Long
Hair color
Brown
Eyes color
Blue
Languages
Location
Győr

Győr-Moson-Sopron County
About Me
Szia!

Barbara vagyok, tapasztalt, vidám, kommunikativ, érett Nő! ( ennek minden előnyével és hátrányával! :-)))
Ha minőségi erotikával és érzékiséggel fűszerezett masszázsra vágysz, hozd a tested, ne vacakolj! :-)Szeretettel várlak hangulatos, diszkrét( adott és elvárt)tiszta lakásomban, ahol nyugalom, félhomály, pihentető zene, és füstölő bóditó illata fogad. A kellemes légkör teljes ellazulást biztosit számodra, hogy a program végén kipihenten és feltöltődve érezd majd magad!
Érintésemmel felkeltem a vágyad, ezáltal felkészül a tested egy lassú, izgalmas, érzéki csúcsponthoz. Az erotikus masszázs koreografált érintés, mely elvarázsol! :-))

Természetesen egyedi igényekhez igazitom a masszázst, tehát ha fáj valamid kérhetsz erősebb masszázst is mixelve az erotikussal! 17éves tapasztalattal rendelkezem, képzett masszőz vagyok, szóval nyugodtan kivánj a hátad közepére! :-)))Aktusra nincs lehetőség!

Hedonistáknak ajánlom a szeráj masszázst! :-)Különleges kényeztetés, ami jár Neked! :-)

Hölgyeket is fogadok igazi csajos maszázsra! (párokat nem! )

Kizárólag önmagukra, és a masszázsra egyaránt igényes vendégeket áll módomban fogadni! Kérlek számkijelzéssel hívj! Köszönöm! :-)

Ha a vékony csajokat szereted, kérlek ne engem keress!

25-55 éves korig várom vendégeimet! Köszönöm a megértésedet! :-)

Ittas, drogos állapotban kérlek ne hívj!
Services
Anti-stress massage
Erotic massage
Handjob
Intimate massage
Lingam massage
Love massage
Massage
Massage (classic)
Massage with breasts
Non-Ejaculatory Orgasm massage
Sensual massage
Slippery massage
Sole massage
Sport massage
Swedish massage
Swedish relax massage
Tantra massage
Welcoming in stockings (if you ask)
Photo shooting
Yoni massage
Blow job with condom
*A -al jelöltek
extrának
számítanak!
Feedback about Me
Hát én egy visszajáró vendége vagyok és remélem hogy még sokáig megtapasztalhatom kezei gyöngéd érintést ami jelenti a masszázshoz is szaktudását (remekül, jó erőteljesen masszíroz) és természetesen a gyengéd érintéseket is!
A lakás amiben fogadott egy hangulatos,tiszta félhomályban úszó gyergyákkal kivilágított szoba közepén egy masszazsággyal! Zuhannyal kezdtem , utána hasonfekve kezdett masszírozni, mindig megkérdezte nem e fáj valahol mert akkor ott jobban kezelésbe veszi.. jól csinálja!
Már hason fekve is be be csusszanik a keze a combjaim közé és izgatóan megtalálja hátulról is a szerszámomat és már így kezd izgatni...imádom...
Majd már amikor már kellően felizgatott akkor megfordulok és hát folytatódik az őrületbe kergetés ,egy kis csúszka a cicikkel,apró kis csókok...és hát én is megizlelhettem a puncija ízét ami hát nagyon kellemes és ha minden igaz szerette is a nyelvem játékát.
Ezt megköszönve ő is szájba vette a farkam és hát nagyon finoman őrítöen szopízta,nyalogatta,de nem akarta hogy gyorsan végem legyen.. húzta.. húzta csak, közben kaptam egy egy csókot is hogy még jobban megőrüljek "nesze kis majom ezt akartad" mondta..és hát a végén teljesen kicsavart, remegő lábakkal mentem zuhanyozni....minden percét élveztem és alig várom az újabb talalkozást!
:)
April 13, 2:08 AM
Sziasztok..
Minden ff társamnak csak ajjálani tudom,figyelmes ,szokimondo,"neha"vicces .Igazábol amit csinál azt teljes odaadással figyelemmel teszi...tusolás kötelező...
Köszönöm a frissitő élményt..még találkozunk remélem!
Barbara válasza: Szia! Köszi,az értékelést!:-) Hozd a tested máskor is!:-)puszooo
Nov 12, 2022 9:19 AM
Sziasztok Kedves férfitársaim! Elhatároztam írok Barbaráról pár sort mert nem bírom ki, hogy taglaljam csodálatos élményt amit átéltem nála már nagyon sokszor.
Mint már említettem már sokszor voltam nála, nem véletlen. Nagyon közvetlen, mint ha tényleg a barátnőmhöz mennék el egy beszélgetésre, de nem beszélgetünk, én masszázs közben nem szeretek beszélgetni, szeretem átadni magam az igazi élvezeteknek. Én erotikus masszázst kérek mindíg, szeretem a lágy érintéseket, amit Ő nagyon jól csinál. Ez után jön a lingam masszázs, eszméletlen technikával csinál, itt látszik tényleg ért hozzá. Többszöri késleltetés után, ami nagyon kellemes, a vége felé már feszít a vágy és megtörténik a teljes beteljesedés, ami eszméletlen, ájulás közeli.
Mindenkinek ajánlom, próbáljátok ki, nem bánjátok meg.
A környezet panel ami tökéletesen megfelel, tiszta, rendezett.
Barbara válasza: Kedves Quowadis!Örülök,hogy jól érezted magad velem,nálam! Köszönöm szépen az értékelést!Hozd a tested máskor is!:-)puszi
Nov 16, 2017 11:48 AM
Ma meglátogattam Barbarát. Nem akarom az előttem leírt véleményeket ismételni, ezért ez a beszámoló kicsi más lesz, mint az előzőek.

Amikor beléptem az ajtón, egy mesevilágba kerültem.

A sejtelmes félhomályba burkolózó szoba az arab kultúra jellegzetes tárgyaival, hangulatával teljesen lenyűgözött. Ebben a varázslatos környetetben ott állt előttem Seherezádé, Az Ezeregyéjszaka meséi gyönyörű arab hercegnője.

A történet szerint, amikor Sahrijár szultán rájön, hogy a korábbi felesége hűtlen volt hozzá, szörnyű bosszút áll az asszonyokon. Mindennap elvesz egy szüzet, akit a nászéjszaka után kivégeztet. Végül a vezíre már nem talál több lányt a birodalomban. Ekkor Seherezádé, a vezír lánya ajánlkozik menyasszonynak. A nászéjszakán Seherezádé elmond egy mesét a királynak, de nem fejezi be, így kényszeríti a kíváncsi Sahrijárt, hogy tartsa őt életben. Másnap éjszaka, amint befejezi a mesét, elkezd (de csak elkezd) egy másikat. És ez így folytatódik ezeregy éjszakán keresztül...

Ennek a történetnek lehettem ma -ha csak egy röpke órácskáig is- a másik szereplője. Hogy melyik mesét mondta és játszotta el Barbara, az maradjon a mi titkunk.

Zárszóként csak annyi: már alig várom a következő meséjét...
Oct 5, 2016 3:51 PM
Tibi969
Még csak év eleje van, de többször voltam Barbaránál és jövök is, mert a kedvesség és a figyelmesség amit Ő sugároz és az egész szoba hangulata hatással van a mindennapi stresszes élet levezetésére! De a legfontosabb, hogy egy igazi tapasztalt Nő, aki tudja hogy mi kell nekünk, hogy boldogan távozzunk és már kérjük is a következő időpontot! Egész éves Bérletet én is váltanék!
Jan 11, 2015 10:48 PM
Hüvely Matyi
Imádom a Nőt! :) Már a telefonban olyan, mint egy rég nem látott barátnő! Jó parkolási lehetőség, nyugodt környék! Tiszta lépcsőház (se kutya, se macska, se döglött patkány :) ) A lakás is nagyon rendben van. A fürdő tiszta, a törülközők is, tusfürdőkből választék! Ha igény van rá, ásványvíz, kávé! A szoba igazi keleties hangulatot áraszt, a fények és a zene is! Nem nappali fény, de látod ki van melletted! :) Aztán a masszázs roppant kellemes, főleg amikor a hatalmas mellek is besegítenek a kezeknek! :) A levezetés úgy tudom lehet kézi is, de Én nem hagynám ki ezt az érzéki szájat! :) Azt hiszem bérletet váltok! :)
Apr 4, 2014 3:41 PM
tifosi
Sziasztok! Nekem többször megadatott ezzel a csodálatos lánnyal találkozni. Nemigazán vagyok a szavak embere, ezért csak ajánlani tudom mindenkinek. Egyszerűen ő a csúcs!
Feb 27, 2014 7:08 PM
balint88
Többször volt már szerencsém Barbarával találkozni. Ő egy kedves, aranyos, vidám, csodálatos NŐ. A képei magukért beszélnek. Egy hangulatos lakásban fogad a város nyugodt, csendes részén, nem zavar senki. A nappaliba vezet, ott történnek a nagy dolgok! Varázslatos hangulatot a sok gyertya és a félhomály teszi tökéletessé. A masszázsa kitűnő, a legjobbakat mondhatom róla. Nem hasonlítható össze mással, Ő a csúcs! Közben lágy zene szól és beszélgetünk közbe, mintha évek óta ismernénk egymást! Nekem ez nagyon tetszik!
Legszívesebben haza se mennék tőle, olyan jól érzem ott magam. Ez mindent elárul Barbiról! Imádom!
Jan 23, 2014 10:22 AM