Close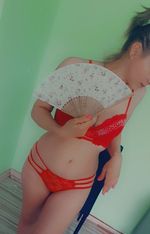 Hi! I'm Sara, 30 years old!
Sopron
Biography
Age
30 years old
Category
I'm female & seek sex partner
Physique
Thin
Hair type
Medium long
Hair color
Blonde
Eyes color
Brown
Languages
Location
Sopron

Győr-Moson-Sopron County
About Me
Szia üdvözöllek az oldalamon. Ha vagysz egy igazi nőre aki minden vagyad, álmod, legkéjesebb legmerészebb erotikus élményed élned átt, akkor jó helyen jársz! A diszkréció nálam alap, empatikus vagyok ferfiakhoz, a kor es a faji hova tartozás tőlem független. Szeretem ha a ferfiak tőlem elegedeten es boldogan távoznak. Keres bizalomal telefonon, es töltsük együtt fél órát vagy több órát. Pusszi édeseim!
Feedback about Me
The advertiser currently doesn't want to take the opportunity to give her an opinion.